Horse Racing Derby Quest Game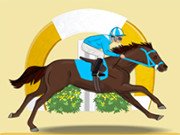 Horse Racing Derby Quest Game - Play Free Fun Games Online
Horse Racing Derby Quest is an excellent online game that you can play right here on our site. Go out onto the derby race track and show your skills and strength. As an expert jockey and derby racing coach, step onto the arena with some of the best horse breeds on the racetracks. This race will not be a comfortable ride, so get ready for some tricky stunt quests, jump obstacles, and show your endurance. Choose your favorite stallion and race to win the ultimate challenges against your competitors. Use your mouse to click the riding horse icon, which is at the right down corner of the screen. On the other side, if you play the game on your smartphone, tap with your finger. However, it is vital to click at the right moment, i.e., when the moving arrow on the horse riding bar is on the green rectangle. Upgrade your horse to win all races and become the best racer in this racing derby. Be the best jockey in this racing quest, and control the speed of your horse on the racing track. Entertain the crowd, experience the excitement, and have fun with Horse Racing Derby Quest!
12,948 play times
How to Play Horse Racing Derby Quest Game
Use the mouse or your finger on touch screen devices to play this free online game.