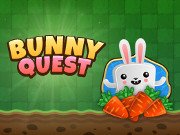 Bunny Quest Game Online - Play Free Fun Rabbit Html5 Games
Slide road tiles to make a path for the bunny to the goal. Stone tiles can't be moved. When you are stuck, use a hint. Aim to use as few hints as possible, and try to win with as few moves as possible. Enjoy 80 levels in this free html5 rabbit game. Have Fun!
10,866 play times
How to Play Bunny Quest Game
Use the mouse or your finger on touch screen devices to drag the tiles to the correct spot when you play this free online game.
Little Girls Loves Bunny Play
I love to wonder about how a little girl may play with a bunny. Will she give it carrots or pretend it is easter? My daughter does this with her beloved faded and ragged pink bunny that she was given just before her very first plane ride to go see Grandma and Grampa, back when she was only 6 months old. She also loves to think about what it would be like to actually be one of these amazing characters. They are a group of the best friends anyone could find in a TV show. If you want to play free new full girl games, you can play this very fun game that is related to the animated series called Masha and the Bear that you can watch on Netflix. This show involves the lives and very funny and interesting interactions between two of the most favorite russian cartoon characters. You may be able to watch some clips on Youtube, or see some images or find a few different video games on the Internet too.