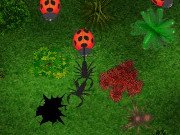 Pest Squash Game Online - Play Free Fun Insect Web Games
The pesky bugs are everywhere, and for some reason they always seem to get away before you can squash them. How fast do you think you can do squeeze them? Find out in this simple and fun game. Have Fun!
11,291 play times
How to Play Pest Squash Game
Use the mouse to play this fun online game. If you are on a touchscreen device you can simply just tap the screen with your finger.