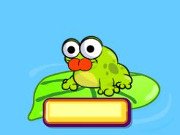 Hungry Frog Game Online - Play Free Fun Insect Web Games
It is rumbling in her tummy, this frog needs to be fed. Click on the flies and the frog will show all sizes of her tongue. She will stick off the flies on her tongue and will eat them. Also you can collect the watches and fly hitter, which will help you have enough time and eliminate all flies. Have Fun!
10,655 play times
How to Play Hungry Frog Game
Use the mouse or tap the touchscreen to eat flies when you play this free online game. Try to get as high score as possible.