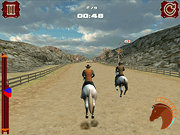 Stallion's Spirit Game Online - Play Free Fun Horse Html5 Games
Here is fun wester themed horse game. Hop on your favorite horse who will help you to win the race. You can choose one of the three horses that are champions in the races. Bronco, Steeder and Mustang will help you to win the rides in each new track, use the lasso to slow down the competitors. Have Fun!
13,435 play times
How to Play Stallion's Spirit Game
Arrows to Ride. X to Power Up. Spacebar to Jump. P key to Pause. M key to Mute.