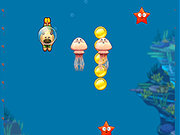 Doggy Dive Game Online - Play Free Fun Dogs Html5 Games
Discover a fantastic underwater world in Doggy Dive. Get into the water and dive as deep as you can. The deeper you go, the more points you will get. Collect air bubbles and coins and avoid dangers like poisonous jellyfish, blowfish and sharks. Prove your skills and reach a high score. Have Fun!
10,331 play times
How to Play Doggy Dive Game
Use left and right arrows to move. Push the arrows with your finger on touchscreen devices.