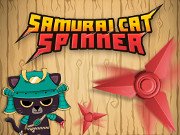 Samurai Cat Spinner Game Online - Play Free Fun Web Games
This kitty warrior has created an exciting challenge for you. How many times can you make this spinner go in circles? See if your spins can impress the furry samurai in this html5 action game. Don't let the spinner stop, or you'll lose. Have Fun!
11,241 play times
How to Play Samurai Cat Spinner Game
Use the keyboard or mouse to click or your finger to tap the screen when you play this free online game.